Lynne Baird established The Daniel Baird Foundation in memory of her son Daniel Baird. He was just 26 years of age when he was fatally stabbed in Birmingham in July 2017, following a night out with friends, in an area where no bleed control kit or trauma pack was at hand to use. Lynne Baird believes that, had there been publicly accessible bleed-control equipment available, Daniel's life may not have been cut so short. She has campaigned to roll out potentially lifesaving bleed kits to be accessible country-wide for the last two years.
Prometheus Medical, part of Safeguard Medical, teamed up with The Daniel Baird Foundation to raise awareness of knife and violent crime and highlight the importance of having publicly accessible bleed control packs available. Initially launched in the West Midlands, the Foundation started by raising £12,000, making Birmingham the first UK city to have bleed-control kits and specialist first-aid training implemented in pubs, schools, shops and other public venues.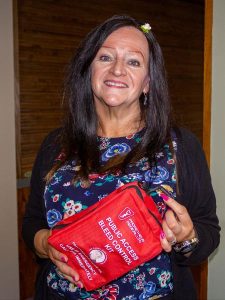 Adam Johnson, CEO of Safeguard Medical says, "We're thrilled Lynne Baird has received recognition for her tireless work in raising awareness of lifesaving skills and providing accessibility to the Prometheus Bleed Control Kit. The Daniel Baird Foundation echoes our mission here at Safeguard Medical; we exist to offer products that will enable responders at every skill level to preserve life in any environment and ultimately save more lives."
Now installed across the West Midlands and in locations in Glasgow and London, the Prometheus Bleed Control Kit is designed to help control and stop severe bleeding. Containing the very best proven equipment, essential for medical trauma management, it provides the bystander or trained medic with the means to immediately control life-threatening external haemorrhaging. With response times and speed of treatment being paramount to increasing the chances of saving a life due to catastrophic blood loss, the efforts to control the bleed are vital.
In addition to working with The Daniel Baird Foundation, Prometheus Medical was joined by the West Midlands Ambulance Service and Birmingham Community Safety Partnership to develop this effective and comprehensive form of bleed control solution. For every Prometheus Bleed Control Kit sold, Safeguard Medical donates £5 to The Daniel Baird Foundation.
Prometheus Medical, part of Safeguard Medical, is dedicated to equipping responders at every skill level to save lives and offering free places on medical training courses across the UK to help prepare the public and businesses to respond better to medical emergencies understanding bleed control. To find out more and register your interest in the free training sessions, please visit www.prometheusmedical.co.uk and learn how to #ControlTheBleed.