Safeguard Medical Ltd was delighted to welcome his Majesty's Lord-Lieutenant of Herefordshire, Edward Harley OBE, to the Prometheus Medical training facility recently, for an informal meeting with members of the team and the co-founder of Prometheus, Dr Malcolm Russell MBE.
Dr Russell explained to the visitors that Prometheus and Safeguard had one aim – to save people's lives. This could be internationally in major disaster zones across the world or locally by the side of the road in Herefordshire after a traffic accident. "We train and equip people from all backgrounds to be effective first responders".
Prometheus Medical training courses cater to the absolute beginner through to the practitioner needing Continuous Professional Development (CPD). Prometheus instructors are medically current experts and tailor the practical hands-on sessions to resonate with their students, who come from all industry sectors.
Since becoming a part of the Safeguard Medical group of companies, Prometheus Medical benefits from the best medical products and equipment which students utilise in their training courses. These products include SIMBODIES™, which are true-to-life manikins that are also interactive, plus award-winning bandages and medical technology-driven equipment, as seen in the photo above, in which Malcolm Russell is explaining the Russell Chest Seal™ (which he designed), to the visitors.
Prometheus partners with local and global organisations to mitigate medical risk to their staff and their customers.
To discuss how to reduce risk in your organisation call: 01568 613942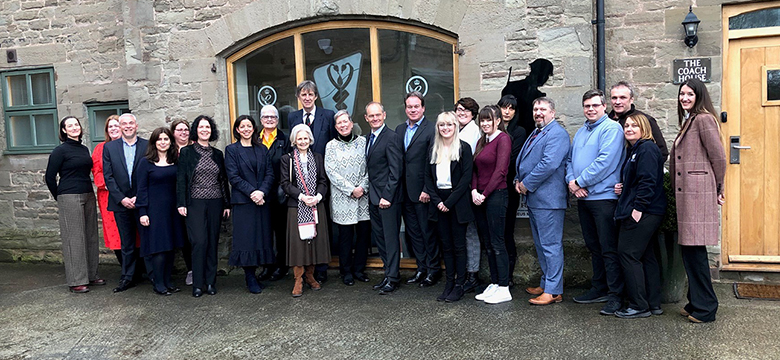 PHOTO TOP OF PAGE: Left to right – Mrs Harley, Ms Nicky Entwistle, Dr Malcolm Russell MBE, Lord-Lieutenant – Mr Harley OBE, Deputy Lieutenant – Mrs Karen Usher
PHOTO BOTTOM OF PAGE: Lord-Lieutenant of Hereford meets the Prometheus Medical team.