It's been four weeks of unbelievable excitement here at the Tokyo 2021 Olympics, and as one of the Team GB HQ Doctors based at the OLV (Olympic Village), it has been a great privilege to have been involved.
This is my second Olympics following my role as Chief Medical Officer for Team GB's Prep Camp at Rio 2016, and I have also experienced the last three Commonwealth Games working with my home country, Team Scotland.
The OLV is a fantastic place. With over 9,500 athletes and staff passing through, things were different from pre-COVID times but still a lively, buzzing atmosphere. Most counties bring their own national branding to decorate the outside of the accommodation blocks. Here you can see Team GB's section, but all countries bring a slice of home with them.
The OLV overlooked Tokyo Bay with stunning views. The high temperatures and humidity were very intense and more so for the athletes. For that reason, the marathon and 20/50-kilometre race walk events were transferred up to Sapporo, in the north of Japan, where the climate was cooler. However, the open-water 10-kilometre swim was held back in Tokyo Bay, where the water temperature was 30.5°C!
My role was to directly support the more minor sports that did not have their own medical teams, being the on-duty doctor in the OLV and supporting bigger medical teams on some of the busier sports. I worked on a fantastic mix of sports such as Canoe Slalom, Boxing, Cycling (Mountain Biking and BMX) and Shooting.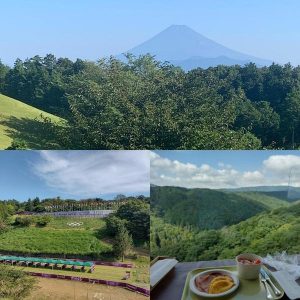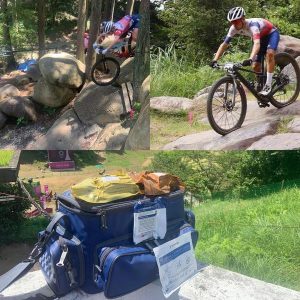 First, I travelled down to Izu in Shizuoka prefecture, home of the Olympic Cycling Village. I was glad to find the stunning scenery did not stop upon leaving Tokyo, with breathtaking breakfast views. Fuji-san is incredible on a clear day and is still partially snow-capped even in the summer.
Big drops on the mountain biking course with Evie Richards and Tom Pidcock of Team GB showing us the way. My Prometheus Medical kit is always on standby to manage any injuries the athletes were exposed to on a technically challenging mountain bike course.
Next week, I was with BMX Racing – eight very powerful athletes competing against each other on eight very small bikes! It's not unusual to see crashes as the race goes on, as competitors try to get into prime position for each turn. My medical gear is always with me, despite the fact the Japanese Field of Play teams were also present, just in case of a severe injury to one of our athletes.
Thankfully, Team GB got away without any injuries. Still, the current Olympic champion, a USA cyclist, was involved in a nasty collision, and he ended up in intensive care after a minor bleed on the brain. I always have my Prometheus Medical trauma bag close at hand, which contains most of the essential immediate care medical equipment that is necessary when I cover these sports. The mechanism of injury may be different, but the principles of immediate care management remain the same.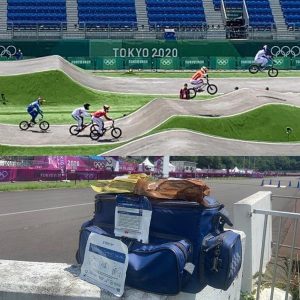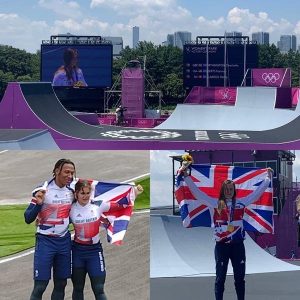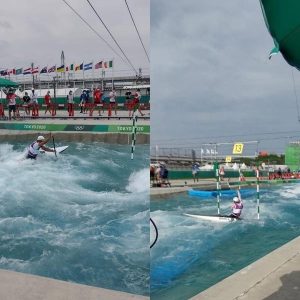 Next, it was on to BMX Freestyle – jumps, twists, turns and some serious height! Riders faced injuries such as broken collarbones, collisions with a marshal as well as having heavy rain to contend with.
Just some of Team GB's star athletes – Silver and Gold for Team GB on BMX: Kye Whyte 🥈and Beth Shreiver 🥇 plus Gold for Charlotte Worthington too! 🥇
Then quickly over to the canoeing events. Some serious feats of strength against the water to make it through the obstacle course here.
Now back to Tokyo, where the lights are dimmed before the Women's 100m sprint final. Ten seconds later, we were celebrating a Jamaican triumph with Bronze, Silver and Gold! Although members of the public are not allowed to spectate this year, the other athletes still made for a fantastic audience and atmosphere.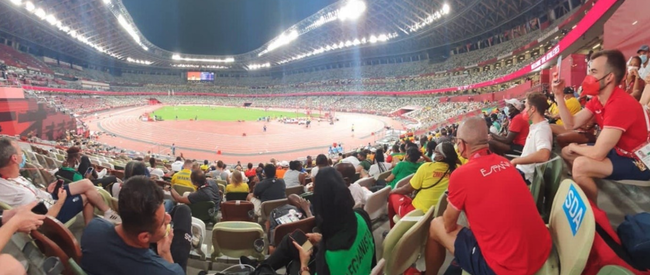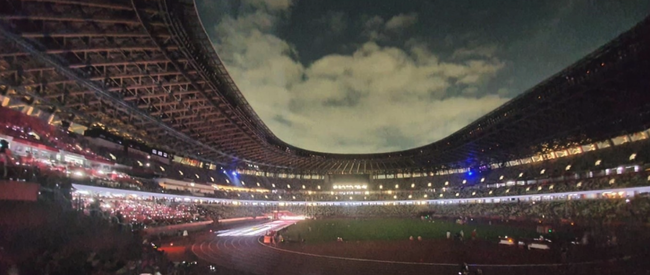 There's just something about these Tokyo sunsets that make you stop and savour the moment – with the closing ceremony being a very relaxed but vibrant event that captured the whole spirit of the Olympics. Does it get any better than that?
Finally, we said 'Sayonara' to the Olympic flame just before it was extinguished – to be continued in Paris… And now some time to rest and get over my jetlag after an incredible few weeks at the Tokyo Olympics 2021.